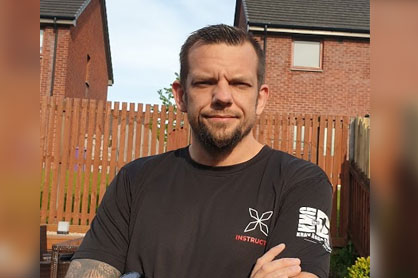 Peter started practicing Krav Maga in 2015. He was looking for some type of self-defense system for Adults after watching his 5 year old daughter training Taekwondo for over a year, thinking "I want to do something like this, but more useful for and realistic".
He was instantly hooked after his first class and hasn't looked back since!
After passing P1 grading he started training 4 or 5 times a week he progressed quickly through the system and passed the KMG General Instructors Course in Bratislava  in February 2019.
He currently holds the rank of Graduate Level 3. Always seeking to improve and push himself and also regularly train CrossFit. He likes to travel, specially to Poland and learn Krav Maga from high level KMG Instructors.
Peter teaches regularly at the Tryst Sport Centre classes in Cumbernauld.